In Brief :
Day 1
: Arrival - Angkor Wat - Bakheng Sunset
Day 2 : Angkor Thom – Takoe – Ta Prohm (B)
Day 3 : Preah Khan –Neak Pean - Bantey Srei – Bantey Samre (B)
Day 4 : Beng Mealea – Rolous Group – Departure (B)
Details Itinerary

Day 1 : Arrival - Angkor Wat - Bakheng Sunset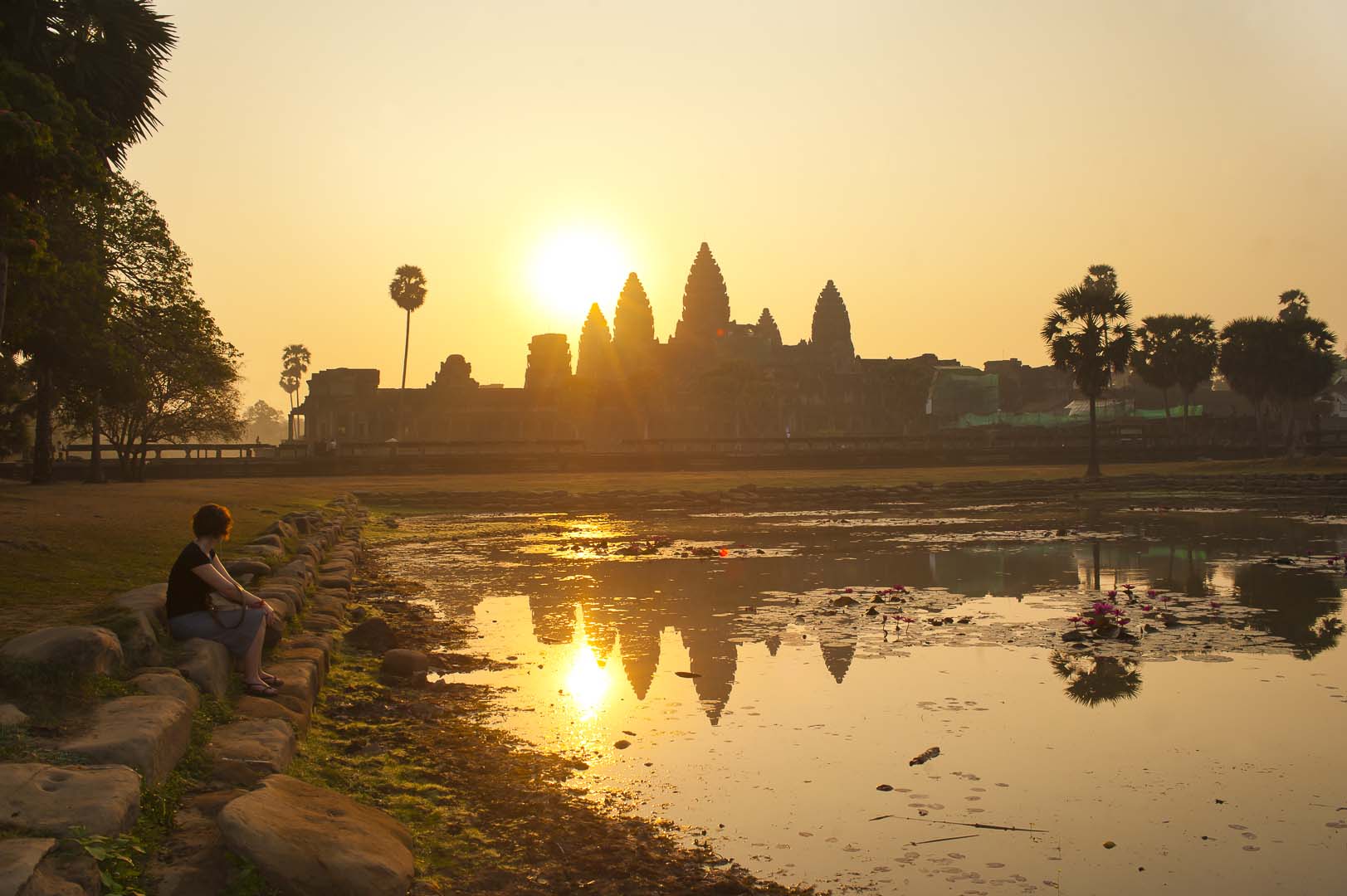 Arrive in the morning flight at International Siem Reap Airport meet our guide holding your name board and warmly welcome then transfer to hotel for check in. Siem Reap is charming ,cleaning city and it has colonial and Chinese-style architecture in which a popular resort town as the gateway to Angkor region , visit Angkor Wat is world heritage side and was the Hindu temple and largest monument in the world that was built in early 12th century by Khmer King Suryavarman II. we walk on causeway from the front side facing to west in which believed that direction of Vishnu god. There is big original statues of Vishnu standing holding tools his four hands in first gopura. then we walk into center parts is amazing hall with Buddhist statues and all galleries depicted stories from India Epic. some of bas relief is shiny as new polish carving on the wall presently. The temple is admired for the grandeur and harmony of the architecture, its extensive bas -reliefs , and for the numerous devatas adorning its walls. we take a short time to climb up to visit Bakheng Hill brightly sunset on The top of temple hill, This temple was also Hindu and has 108 towers surrounding that represented to Mount Meru. The view of Angkor Wat is possible to see from here.You will enjoy welcome dinner of Apsara dancing show at local restaurant. Overnight at hotel


Day 2 : Angkor Thom – Takoe – Ta Prohm (B)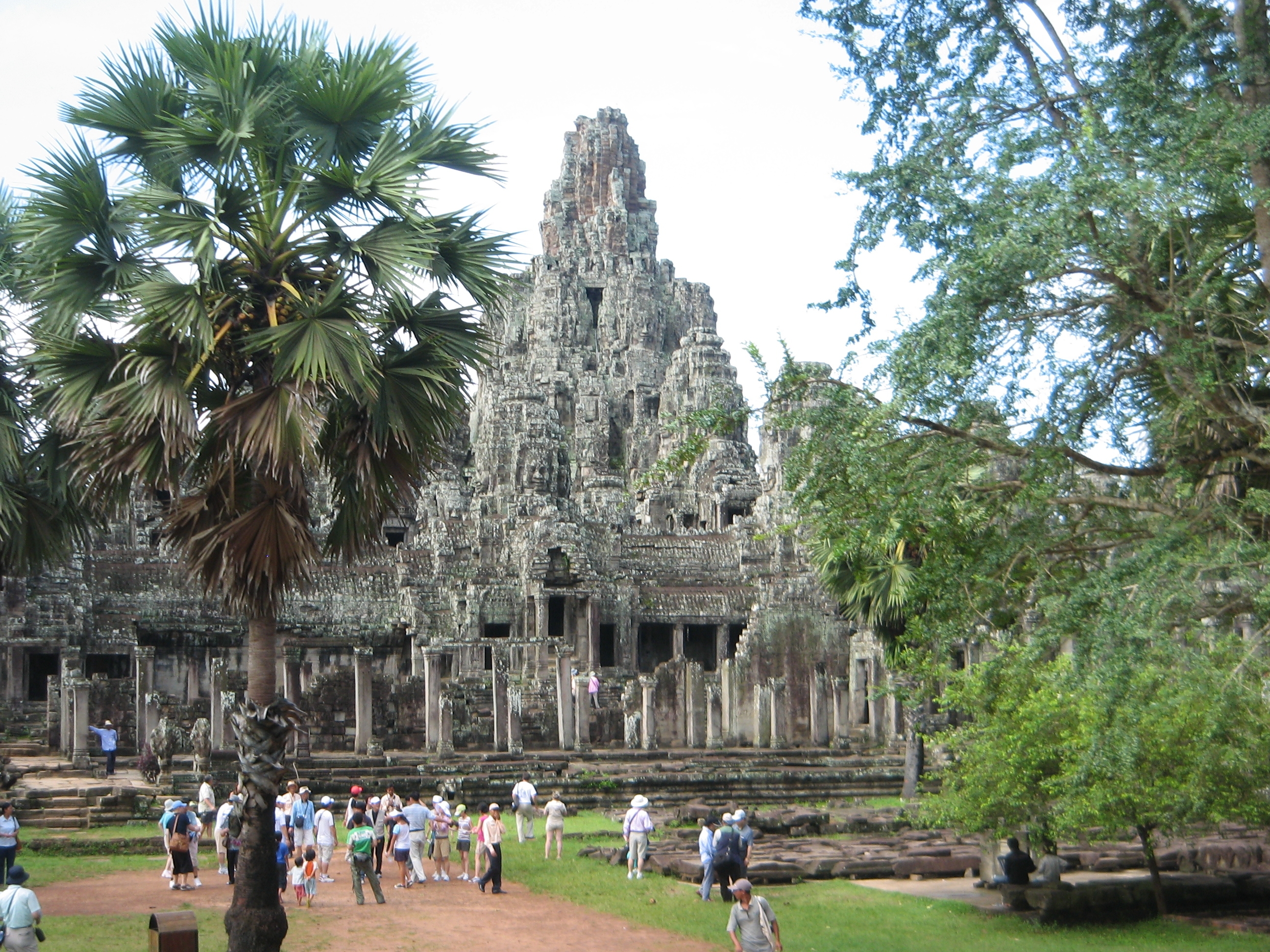 This morning, We are going to visit South gate of Angkor Thom - Great city was adorned by Asura and Tevadas statues holding the serpent for each side. moat is surrounding outer enclosing wall for huge size complex. it is access to temple axe of Bayon and other temples. We visit Bayon temple a massive face of the bodhisattva of compassion called Avalokitesvara or Lokesvara in the 12th century of King Jayavarman VII. There are 54 towers represent to four basic attributes of Buddhism. a piece of sandstone was juxtaposed and superimposed in shape of dome from the bottom to top tower with smiling face. we walk along the gallery there are so many bas relief scenes about daily life, fighting and spot of epics in the past time. Baphoun ,we visit the Hindu temple that is a single temple mountain sanctuary situated on a high base symbolizing, There are sculpture was carving on small square stone in many scenes. The temple is under restoration but still permit tourists to climb up to view its architecture. Phimeanakas we start exploring this temple that was ancient Royal Palace in 10 century. it also was believed that this palace crowed golden pinnacle. The temple was decorated by lion, elephant statue pedestal that is badly ruined. you are possible to go up on top to breath the fresh air of Angkor Thom Complex view. Elephant Terrace, this place as served the King platform in 12th century to view parade and ceremonies. It is standing in front of Phimeanakas Palace. The three elephants are flanking a long the staircase with ornamented elephant fighting scenes underneath had portrayed on the base wall ,Leper King Terrace you will visit a weird platform of King JayavarmanVII in the end 12 century. Bas relief is very remarkable and senses carving of exterior and interior wall. you reach to confusion with this structure of small access opening inside. In the afternoon, we will visit Takoe Temple in shape of pyramid temple and was dedicated to Hindu god in the 10 century. there is no carving or bas relief on the sandstone and tower. on the top is nice view of Angkor jungle complex. Ta Prohm is well known temple, abundance of gigantic tree over and shroud in the jungle dedicating to his mother named Prajnaparamita in late12th century. you will be amazing that you were in ancient time with view of huge and old root interwine over the temple. There are a lot of tiny hole portraying on central tower supposed that precious stones and diamonds exposed. It is time to transfer back to airport for departure flight to your next destination or home. Bantey Kdey Temple not far from Ta Prohm temple we reach to Bantey Kdey. The sight of this temple is Remarkable with its structure. it is original Buddhist temple in late 12th century then converted to Hindu temple after religious confliction. Srah Srang is King Royal bathing in the late 12th century. it is man made pond and elegant platform of King. it always has fully water and greenery. Kravan Temple this is brick towers in line surrounding by moat. a unique sculpture of Vishnu god and pedestal of Linga has revealed interior tower and there are more scenery depicted on the Lintel and wall. Overnight at hotel.

Day 3: Preah Khan –Neak Pean - Bantey Srei – Bantey Samre (B)




we walk into this temple is flanking by Asura and Devas of the gate. The temple was built to dedicated to King's father in the late 12century of Buddhist and Hinduism. You will see brilliant Garuda sculpture is standing on the wall holding Naga was the symbol of powerful temple then reach to central shrine there is a sandstone stupa was deposited for worship and pray later period. The two floor building was built in shape of circle column of western architecture is unbelievable before leaving out. Neak Pean ,We walk along small path for 300 meters to visit superb tower had surrounded small pools. The temple was supposed that is ancient hospital in Angkor time following to inscription. It is always full of water in the raining season and There is a horse sculpture with people cling in middle pond that involved in mythology. Tasom walking to see the Ta som was the Buddhist temple was built in late 12th century. during the Khmer Rough Regime was used for weapon warehouse and the spot of attractive is tree root shroud at back side of east gate. Bantey Srei we drive for 35 km from Siem Reap town to visit the special charm of this temple lies in remarkable state of preservation , small size and excellence of decoration of Pinkish sandstone which enable to the technique of superb carving. There are many sceneries epic depicted on the lintel and fronton of the towers. Bantey Samre is the Hindu temple which built by King Angkor Wat apart from Angkor complex.The structure is well preserved and tiny King coffin was excavated and keep in the central tower. Pre Rup mean in Khmer – Change the body. The temple was build and dedicated to Shiva god of Hinduism and five superp towers on the top was represented to Meru mountain. It is romantic place to watch sunrise, sunset and rice paddies field from the Top.
Overnight at hotel.


Day 4: Beng Mealea – Rolous Group – Departure (B)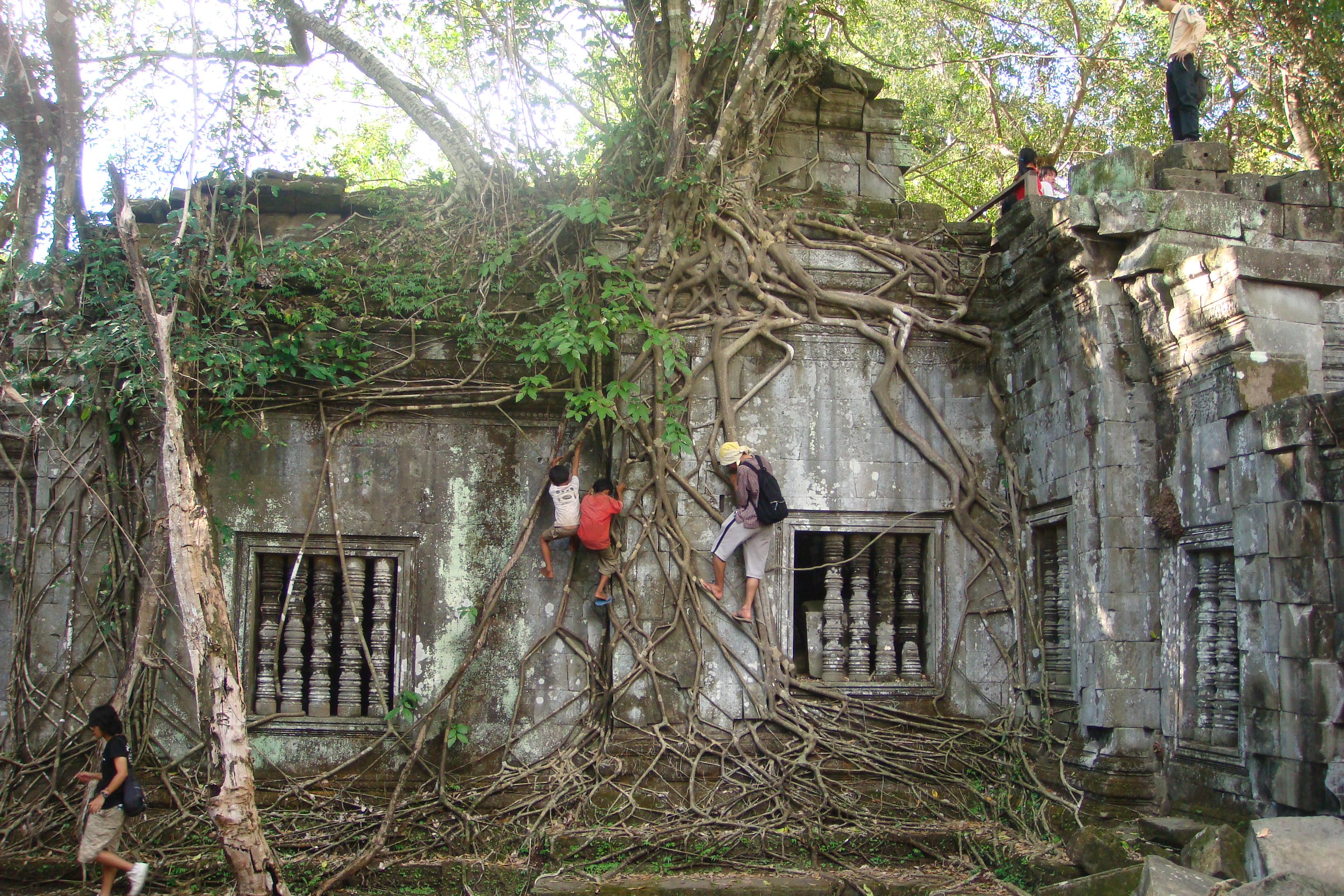 This morning we explore one of Angkor Wat art style built by King Suryavarman II in AD 1113-1150. It is mirror image of mighty Angkor Wat, but totally and utterly consumed by jungle. some of construction was badly ruined by Khmer Rough and people who were looking for treasures. You are able to visit the old capital of Hariharalaya Rolous where was the city of Hindu god. Lolei was dedicated to Shiva god in late 9th century. Its prestige carving is recognizable and fabulous guardian on the corner of the tower, then we visit Preah Kotemple in English called Sacred bull. Even the surrounding enclosing wall was badly ruined but the structure is still seen in plan with a porch in each cardinal direction and the sculpture was covered with elaborate stucco, the last visit is Bakong was dedicated to Shiva god in Hinduism AD 881. the architecture of the temple emerged only one tower on the top was supposed Mount Meru ,there is one Buddhist Pagoda created in the compound but had renovated while construction was destructed in its aged. on the Top of the tower is best view to see Angkor jungle and sunset. It is time to transfer back to airport for departure flight to your next destination or home.

End of Tours!
INCLUSION:
03 night hotel accommodation with daily breakfast

Meal: as mentioned in program (B: Breakfast, L: Lunch and D:1Dinner)

Airport transfers & Transport by air con. vehicles as per program

Boat trip as mentioned

Sightseeing and entrance fees as specified sites.

Local English speaking guide as in program

Cold water and towel during trip
EXCLUDSION:
Visa fee

International air ticket in-out of Cambodia

Other services not mentioned as in inclusion

Other meal, drink, personal expenses, tip

*Child Policies "must be under 12 years old upon the traveling date:

Child in half twin , sharing room with 01 adult 100% of adult fare
Child in extra bed, sharing room with 02 adults 75% of adult fare

Child without bed, sharing room with 02 adults 50% of adult fare
Complementary for kid under 0-4 years old shared bed with parents, except air ticket.

*Cancellation Policies:
Between 17-20 days before arrival: 10% charge

Between 9-12 days before arrival: 30% charge

Between 7-10 days before arrival: 50% charge

Within 4 days before arrival: 100% charge