In Brief

Day 1: Arrival – Check in (D)
Day 2: Angkor Wat at dawn – Angkor Thom Cycling -Ta Prohm (B)
Day 3: Beng Mealea – Rolous Group (B)
Day 4: Ox-cart riding –Floating Village Mechrey – Song Saa (B)
Day 5: Songsaa – Leisure (B)
Day 6: Song Saa – Sihanouk Ville – Departure (B)
Details Program :
Day 1: Arrival – Check in (D)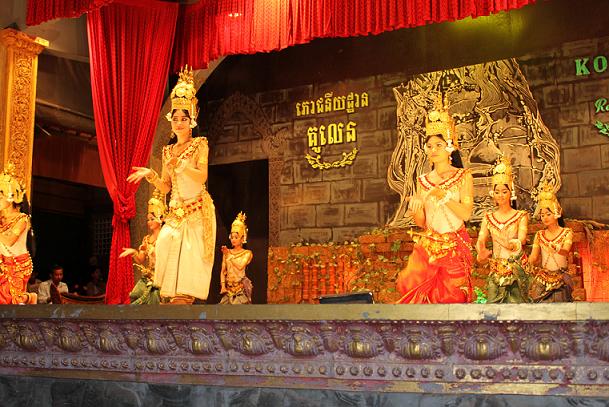 Arrive in the evening flight at International Siem Reap airport meet our guide holding your name board and warmly welcome then transfer to hotel for check in. Siem Reap is charming ,clean city and it has colonial and Chinese-style architecture in which a popular
as the gateway to Angkor
region.
You will enjoy welcome dinner of Apsara dancing show at local restaurant.
Overnight at hotel.
Day 2 : Angkor Wat sunrise– Angkor Thom Cycling -Ta Prohm (B)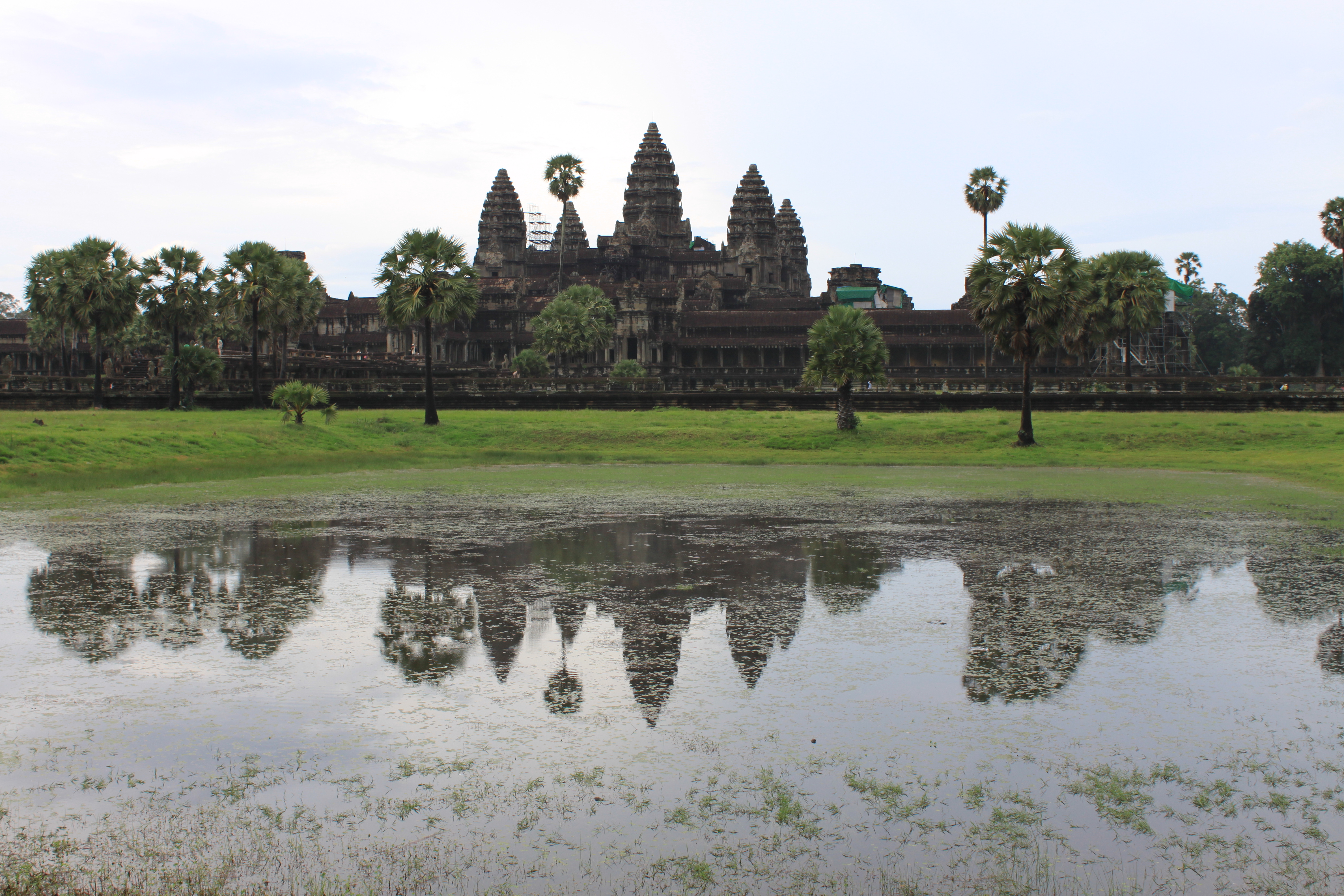 You early get up in the morning and leave at 4.30 am to Angkor Wat to catch up sunrise at compound. the view is reflex from water pond as mirror of the temple. You will have picnic packed breakfast in Angkor before visit their whole structure. Angkor Wat is world heritage side and was the Hindu temple and largest monument in the world that was built in early 12 century by Khmer King Suryavarman II. we walk on causeway from the front side facing to west in which believed that direction of Vishnu god. There is big original statues of Vishnu standing holding tools his four hands in first gopura. then we walk into center parts is amazing hall with Buddhist statues and all galleries depicted stories from India Epic. some of bas relief is shiny as new polish carving on the wall presently. The temple is admired for the grandeur and harmony of the architecture, its extensive bas-reliefs, and for the numerous devatas adorning its walls, then we cycling to visit South gate of Angkor Thom - Great city was adorned by Asura and Tevadas statues holding the serpent for each side. moat is surrounding outer enclosing wall for huge size complex. it is access to temple axe of Bayon and other temples. We visit Bayon temple a massive face of the bodhisattva of compassion called Avalokitesvara or Lokesvara in the 12th century of King Jayavarman VII. There are 54 towers represent to four basic attributes of Buddhism. a piece of sandstone was juxtaposed and superimposed in shape of dome from the bottom to top tower with smiling face. we walk along the gallery there are so many bas relief scenes about daily life, fighting and spot of epics in the past time. The last Ta Prohm is well known temple, abundance of gigantic tree over and shroud in the jungle dedicating to his mother named Prajnaparamita in late 12th Century. you will be amazing that you were in ancient time with view of huge and old root interwine over the temple. There are a lot of tiny hole portraying on central tower supposed that precious stones and diamonds exposed. then we head back to hotel for swimming pool. Overnight at hotel
Day 3: Beng Mealea – Rolous Group (B)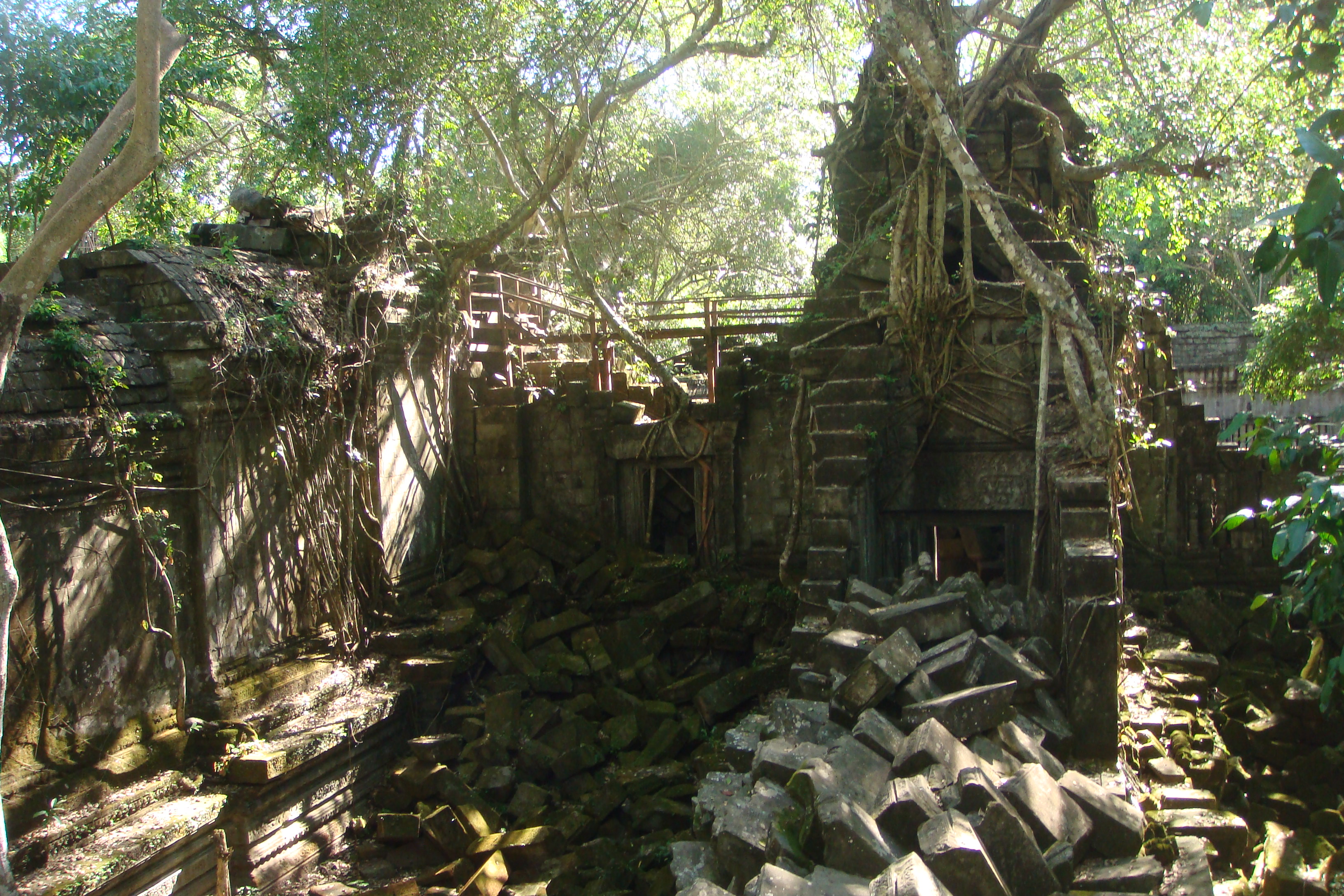 This morning we explore one of Angkor Wat art style built by King Suryavarman II in AD 1113-1150. It is mirror image of mighty Angkor Wat, but totally and utterly consumed by jungle. some of construction was badly ruined by Khmer Rough and people who were looking for treasures. You are able to visit the old capital of Hariharalaya Rolous where was the city of Hindu god. Lolei was dedicated to Shiva god in late 9th century. Its prestige carving is recognizable and fabulous guardian on the corner of the tower, then we visit Preah Ko temple in English called Sacred bull. Even the surrounding enclosing wall was badly ruined but the structure is still seen in plan with a porch in each cardinal direction and the sculpture was covered with elaborate stucco, the last visit is Bakong was dedicated to Shiva god in Hinduism AD 881. the architecture of the temple emerged only one tower on the top was supposed Mount Meru ,there is one Buddhist Pagoda created in the compound but had renovated while construction was destructed in its aged. on the Top of the tower is best view to see Angkor jungle and sunset. Overnight at hotel.
Day 4: Ox-cart riding –Floating Village Mechrey – Song Saa (B)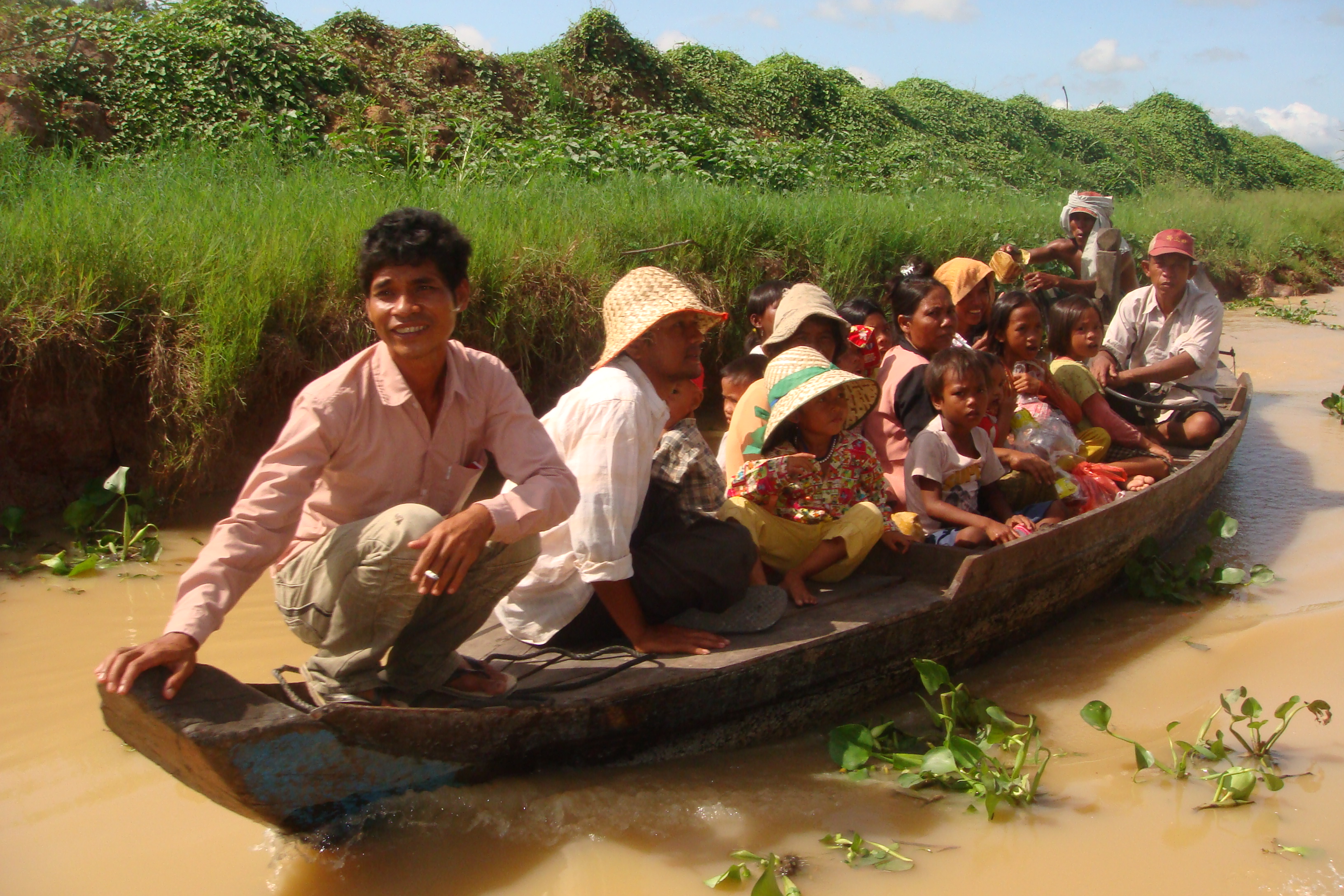 We drive for 25 Km from Siem Reap town crossing path to combine with greenery rice paddy field and palm tree view. Then you will be off from vehicle to ride the buffalo-cart is the ancient local transportation in the past time and still using in present at rural, welcome drink fresh coconut to visit Khmer village before getting the private sheltered boat ride to explore how people's lives work and witness their daily activities, including fishing, schooling, selling their products by rowing their dugout around. See the great lake and find out its ecosystem.Tonlé Sap is the largest freshwater lake in Southeast Asia and its ecosystem is unique in many ways. During the monsoon season , the lake's surface area becomes six times bigger compared to its size during the dry season from November to May.
*Kindly note: ( from March to July the water level is very shallow and it is difficult to navigate for the boat driving and muddy water smelling), Silk Farm we travel out of siem reap town for 20 km, we visit silk farm ,here is vocational training center where you are able to survey and investigate from step by step about silk stage activities and is a tradition that traces its origins back to the 13th century, as a result of the influence of the Silk path in South Asia. It became an exclusive vocation for the disable women of rural villages who produced among others, then shopping will be the last point.
It is time to transfer back to Siem Reap international airport for departure flight to Sihanouk Ville for Song Saa Island. Arrive Sihanouk Ville airport you will meet and warmly welcome then transfer to Songsaa Island by speed boat ( Songsaa Service Transfer).
Song Saa Private Island lies secluded in this magnificent seascape, just 35 minutes by boat from the port of Sihanoukville.
*Note : Song Saa will provide full board included in room service. Most of the islands remain undeveloped – deserted oases of virgin rainforests, tropical reefs and glistening white beaches.
Overnight at hotel
Day 5 : Songsaa – Leisure (B)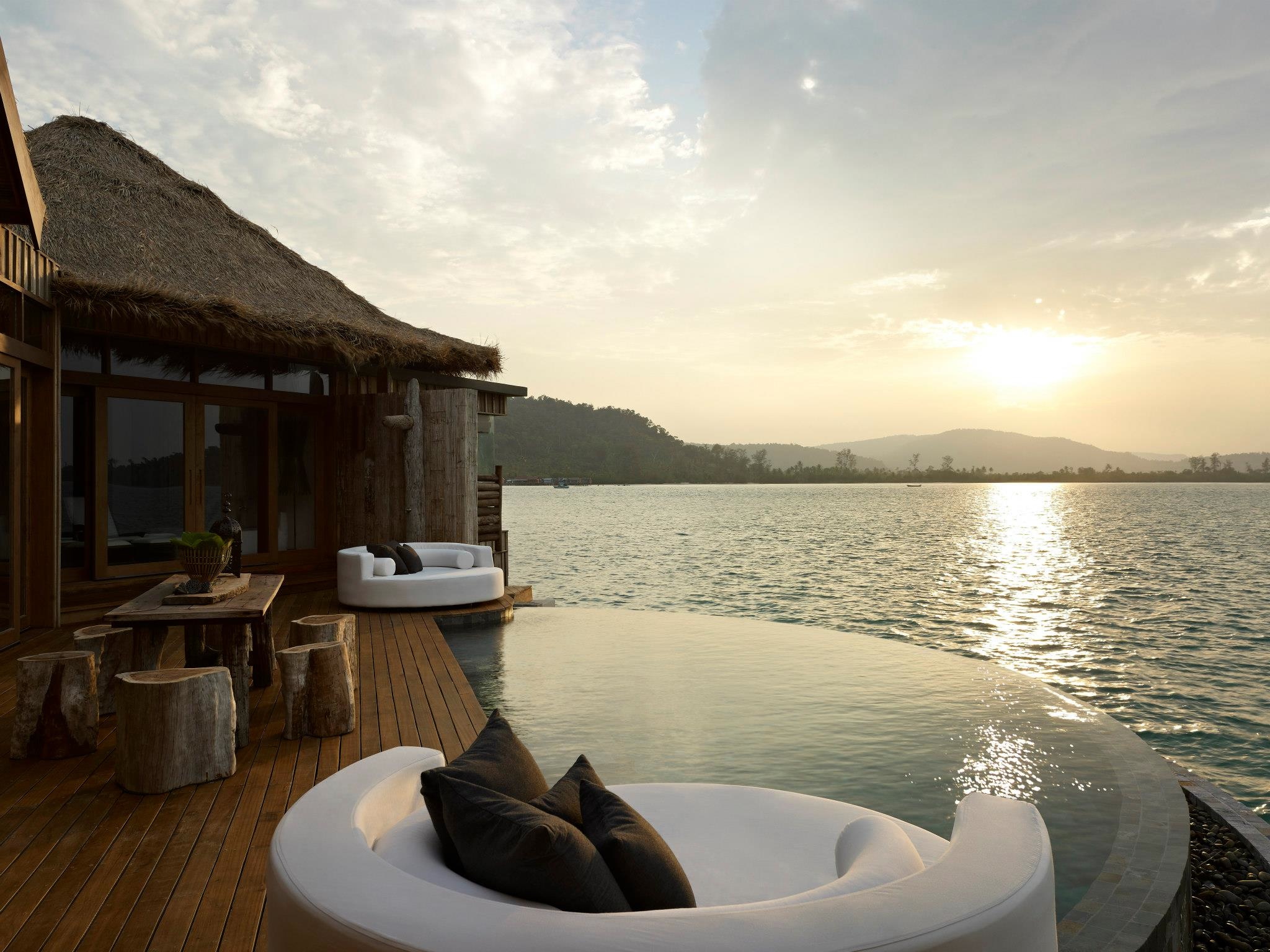 Free leisure for your own time.You will explore the dazzling islands with beautiful landscape and glassy seascape from sunrise till sunset.Overnight at Songsaa.


Day 6 : Song Saa – Sihanouk Ville – Departure (B)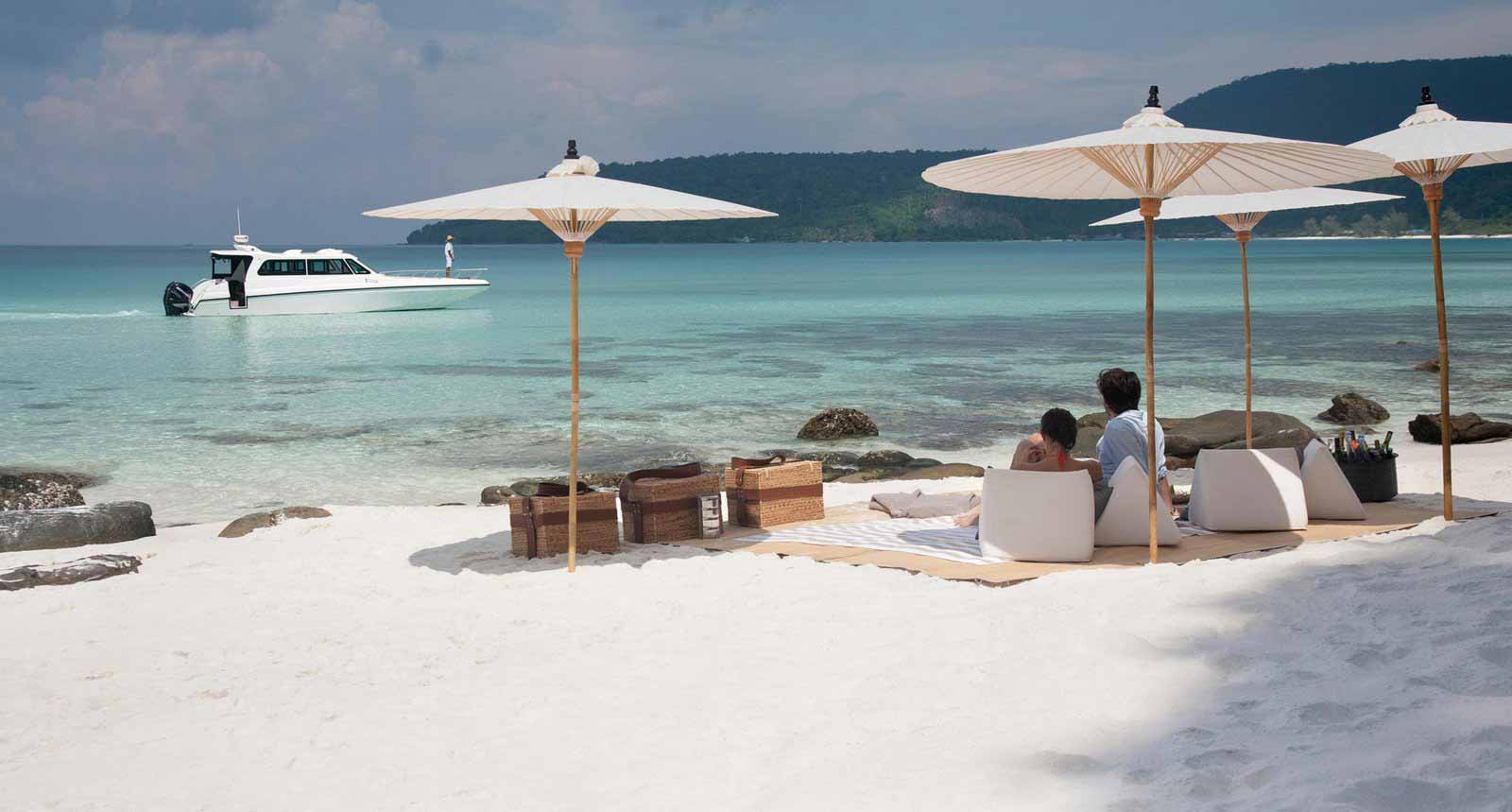 After your breakfast, you will be ready embark on boat back to land of Sihanouk Ville then drive to Phnom Penh for your flight departure to next destination or home.
INCLUSION:
05 nights hotel accommodation with daily breakfast

Meal: as mentioned in program (B: Breakfast, L: Lunch and D:1 Dinner)

*Note Song Saa will offer full board included room rate

Airport transfers & Transport by air con. vehicles as per program

Sightseeing and entrance fees as specified sites

Flight ticket Siem Reap – Sihanouk Ville

Boat riding as mentioned

Cycling as specific side

Buffalo

-cart riding

Local English speaking guide as in program

Cold water and towel during trip

.
EXCLUDES:
Visa fee

International air ticket in-out of Cambodia

Other services not mentioned as in inclusion

Other meal, drink, personal expenses, tip
*Child Policies "must be under 12 years old upon the traveling date
Child in half twin , sharing room with 01 adult 100% of adult fare

Child in extra bed, sharing room with 02 adults 75% of adult fare

Child without bed, sharing room with 02 adults 50% of adult fare

Complementary for kid under 0-4 years old shared bed with parents, except air ticket.
*Cancellation Policies
Between 17-20 days before arrival: 10% charge

Between 9-12 days before arrival: 30% charge

Between 7-10 days before arrival: 50% charge

Within 4 days before arrival: 100% charge