In Briefing
Day 1 : Arrival – Check in
Day 2 : Cycling Angkor Thom – Angkor Wat – Sunset Bakheng Hill (B)
Day 3 : Bantey Srei - Bantey Samre - Ox –car riding - Chong Kneas (B)
Day 4 : Siem Reap – Beng Mealea - Kampong Thom (B)
Day 5 : Kampong Thom – Kampong Cham – Kratie (B)
Day 6 : Kratie – MTCC - Mondulkiri (B)
Day 7 : Mondulkiri – Elephant riding – Ethnic Village (B)
Day 8 : Mondulkiri – Phnom Penh (B)
Day 9 : Phnom Penh – Exploration (B)
Day 10 : Phnom Penh – Departure(B)

Details Program:
Day 1 : Arrival – Check in
Arrive in the afternoon flight at International Siem Reap airport meet our guide holding your name board and warmly welcome then transfer to hotel for check in. Siem Reap is charming ,clean city and it has colonial and Chinese-style architecture in which a popular resort town as the gateway to Angkor region. Overnight at hotel.


Day 2 : Cycling Angkor Thom – Angkor Wat – Sunset Bakheng Hill (B)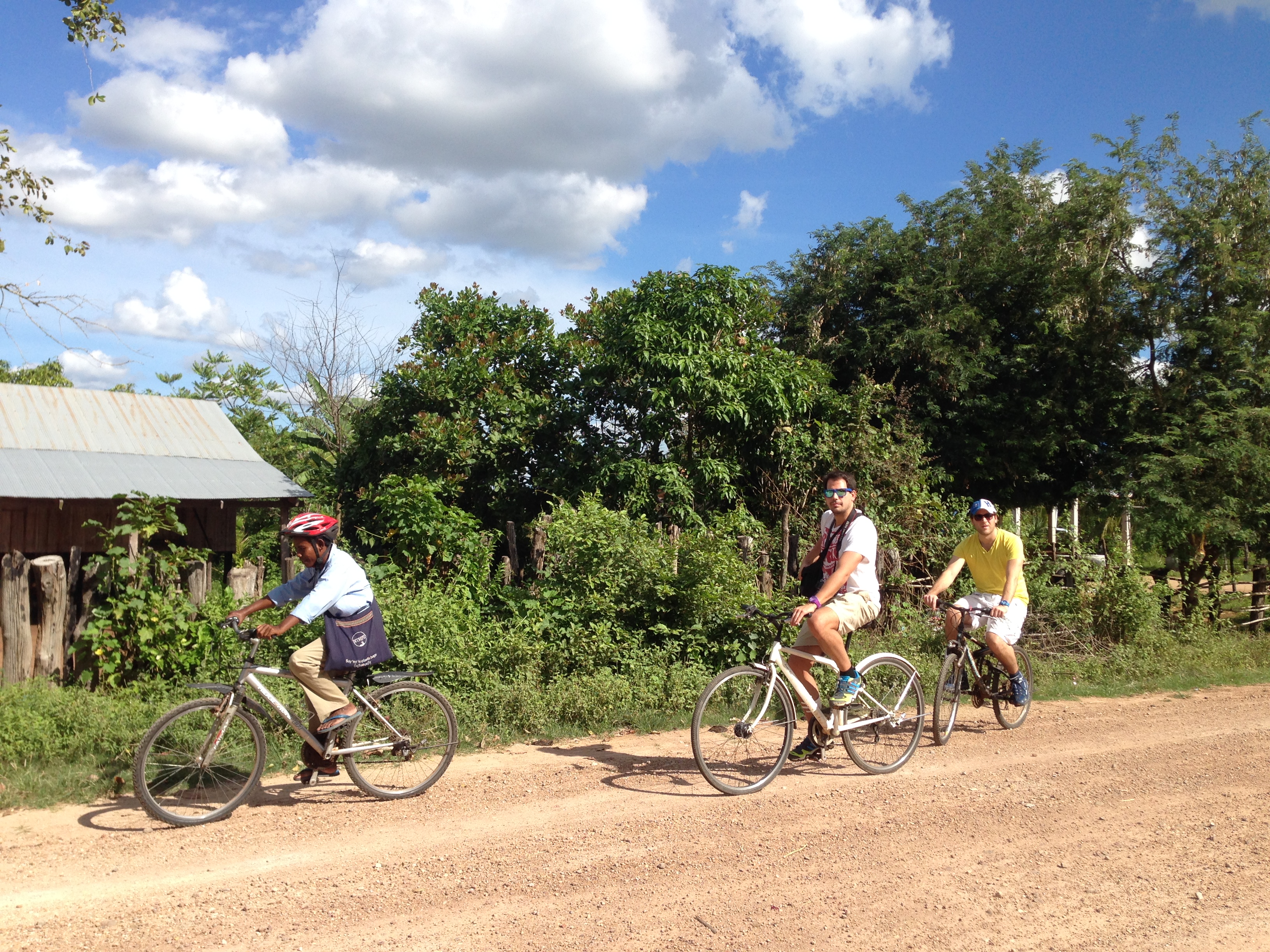 This morning, we are going to cycling from hotel on road then turn into Angkor Park for 30 minutes to visit South gate of Angkor Thom - Great city was adorned by Asura and Tevadas statues holding the serpent for each side. moat is surrounding outer enclosing wall for huge size complex. it is access to temple axe of Bayon and other temples. the last cycling straight to visit Bayon temple a massive face of the bodhisattva of compassion called Avalokitesvara or Lokesvara in the 12th century of King Jayavarman VII. There are 54 towers represent to four basic attributes of Buddhism. a piece of sandstone was juxtaposed and superimposed in shape of dome from the bottom to top tower with smiling face. we walk along the gallery there are so many bas relief scenes about daily life, fighting and spot of epics in the past time. Baphoun ,we visit the Hindu temple that is a single temple mountain sanctuary situated on a high base symbolizing, There are sculpture was carving on small square stone in many scenes. The temple is under restoration but still permit tourists to climb up to view its architecture. Phimeanakas we start exploring this temple that was ancient Royal Palace in 10th century. It also was believed that this palace crowed golden pinnacle. The temple was decorated by lion, elephant statue pedestal that is badly ruined. you are possible to go up on top to breath the fresh air of Angkor Thom Complex view. Elephant Terrace, this place as served the King platform in the 12th century to view parade and ceremonies. It is standing in front of Phimeanakas Palace. The three elephants are flanking a long the staircase with ornamented elephant fighting scenes underneath had portrayed on the base wall ,Leper King Terrace you will visit a weird platform of King JayavarmanVII in the end 12th century. Bas relief is very remarkable and senses carving of exterior and interior wall. you reach to confusion with this structure of small access opening inside. Angkor Wat is world heritage side and was the Hindu temple and largest monument in the world that was built in early 12th century by Khmer King Suryavarman II. we walk on causeway from the front side facing to west in which believed that direction of Vishnu god. There is big original statues of Vishnu standing holding tools his four hands in first gopura. then center parts is amazing hall with Buddhist statues and all galleries depicted stories from India Epic. some of bas relief is shiny as new polish carving on the wall presently. The temple is admired for the grandeur and harmony of the architecture, its extensive bas-reliefs , and for the numerous devatas adorning its walls. we take a short time to climb up to visit Bakheng Hill brightly sunset on The top of temple hill, This temple was also Hindu and has 108 towers surrounding that represented to Mount Meru. The view of Angkor Wat is possible to see from here. Overnight at hotel.


Day 3 : Bantey Srei - Bantey Samre - Ox –car riding - Chong Kneas (B)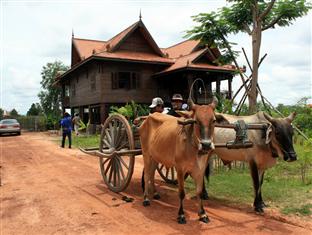 This morning, you will discover Khmer Village to explore about real activity, you will be off from vehicle to ride on Ox –card is the ancient local transportation in the past time and still using in present at rural, you witness to see the people's life along the siem reap river making dry fish , fish paste and Buddhist monk walking and collect food freely donated by the people through Khmer village before getting the private sheltered boat ride to explore how people's lives work and witness their daily activities, including fishing, schooling, selling their products by rowing their dugout around. See the great lake and find out its ecosystem.Chong Kneas floating Village , there are so many tourists end up visiting the Tonlé Sap lake and river system, its famous floating villages. you witness the people's daily lives on the water and get gracious experiences their activities such as fishing, floating school, Barber shop, crocodile farm ,grocery's and animals feeding on the water. Tonlé Sap is the largest freshwater lake in Southeast Asia and its ecosystem is unique in many ways. During the monsoon season ,the lake's surface area becomes six times bigger compared to its size during the dry season from November to May.
*Kindly note: ( from March to July the water level is very shallow and it is difficult to navigate for the boat driving and muddy water smelling )After that we drive for 35 km from Siem Reap town to visit the special charm of Bantey Srei temple lies in remarkable state of preservation ,small size and excellence of decoration of Pinkish sandstone which enable to the technique of superb carving. There are many sceneries epic depicted on the lintel and fronton of the towers, on way back we visit Bantey Samre is the Hindu temple which built by King Angkor Wat apart from Angkor complex. The structure is well preserved and tiny King coffin was excavated and keep in the central tower. Overnight at hotel.


Day 4 : Siem Reap – Beng Mealea - Kampong Thom (B)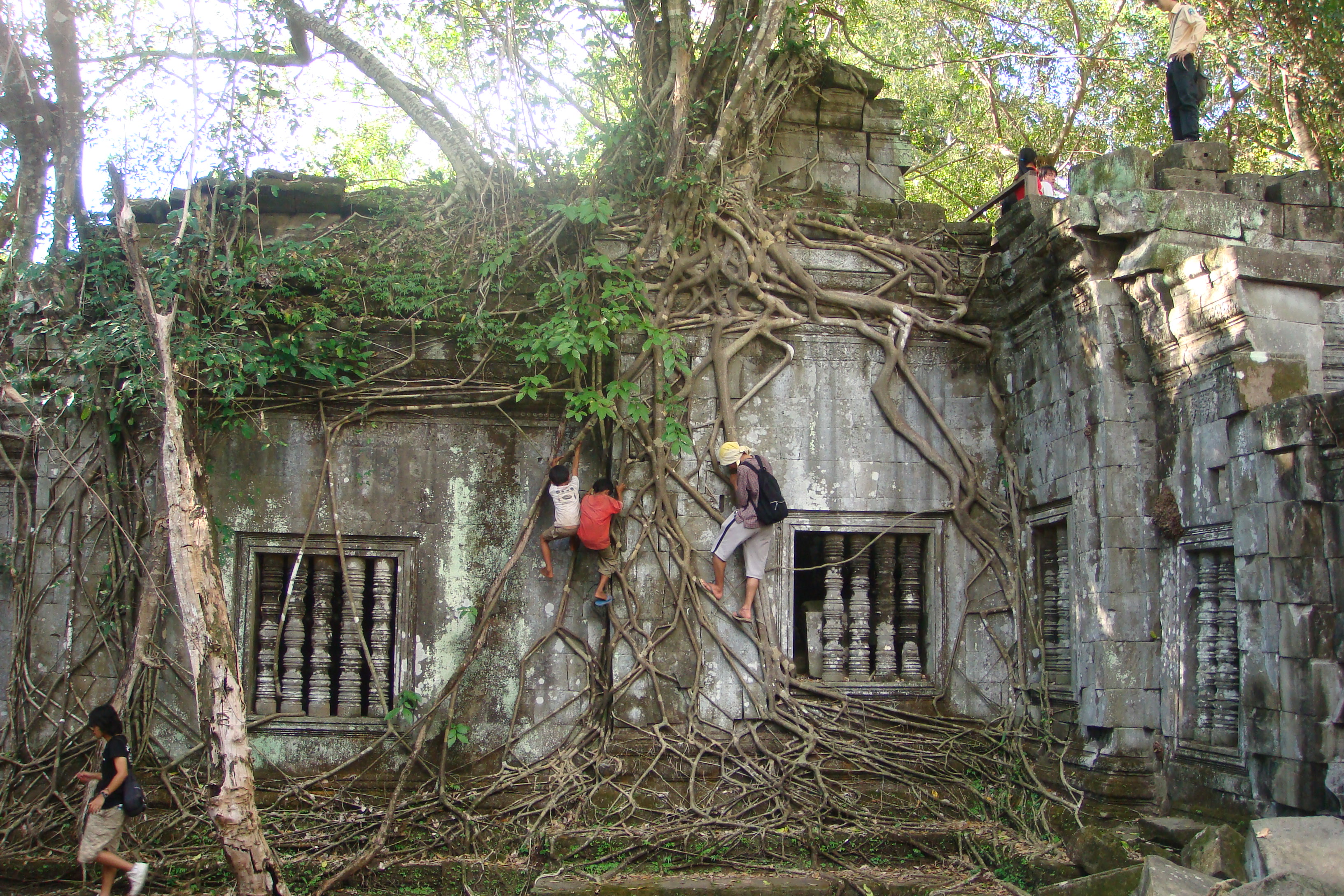 This morning we explore one of Angkor Wat art style built by King Suryavarman II in AD 1113-1150. It is mirror image of mighty Angkor Wat, but totally and utterly consumed by jungle. some of construction was badly ruined by Khmer Rough and people who were looking for treasures we continue our trip to Sambo Prey Kuk at Kampong Thom which the center point of Cambodia known that is the tourism and agriculture in Cambodia. We explore to the northeast of the provincial to visit Sam Bo Prey Kuk temple hiding in forest and build in 7th century of reign of King Isanavarman I (AD 616- 635) , which was old Capital named Isanapura and a religious center for the worship of Shiva Brahmanism. Overnight at hotel.
Day 5 : Kampong Thom – Kampong Cham – Kratie (B)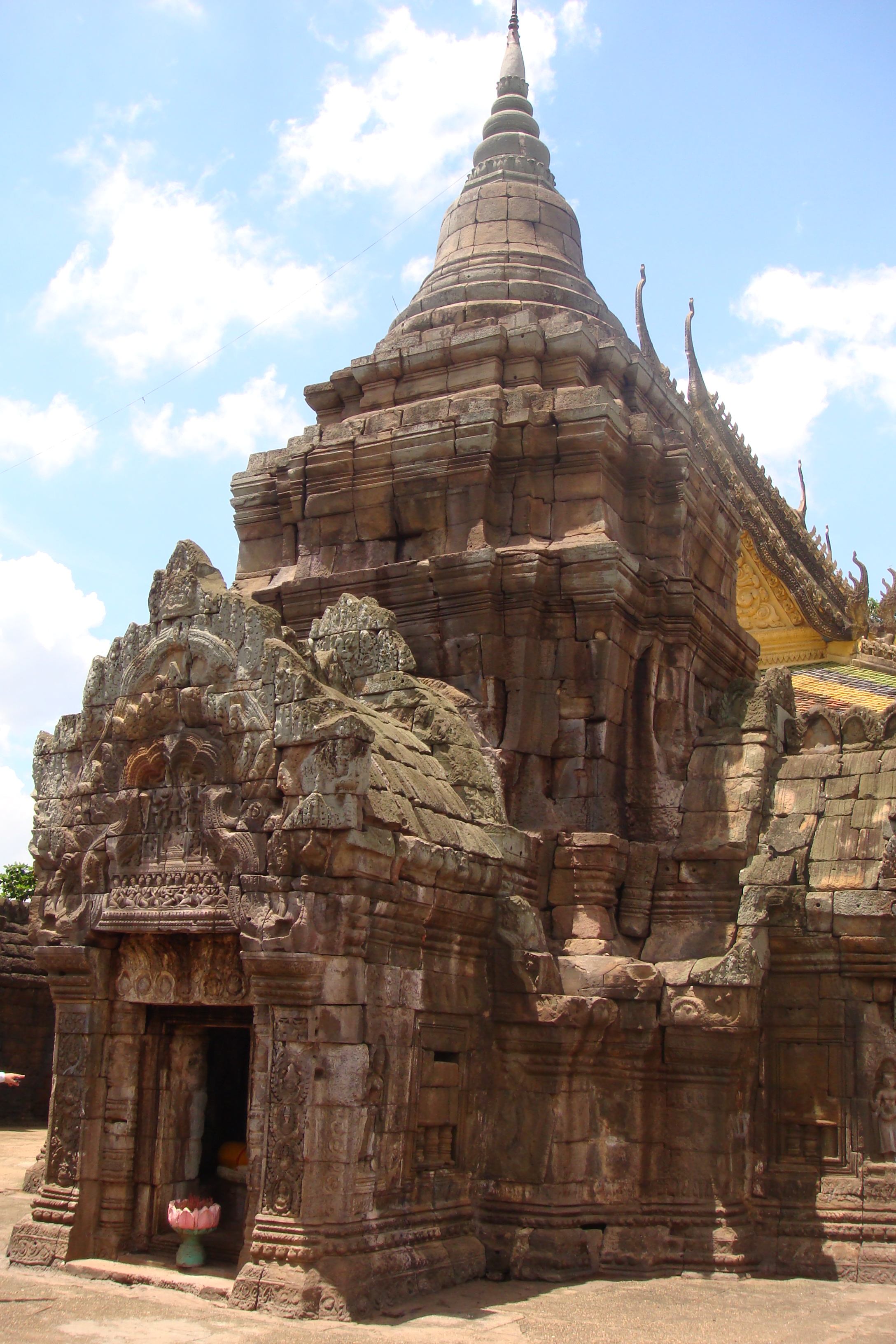 We move our target to next area Kampong Cham is a
province of
Cambodia located on the central lowlands of the Mekong river
and The Province is favorable for agrilculture crop as Rubber, Tobacco and other kind of fruit season.
We visit Nokor Bachey temple was built in middle 11th century by king Suryavarman II Dedicated to Brahmanism. There is the Buddhism pagoda in the temple constructed later time.
Point of interest in the gallery is attractive statues as Lion, Naga, Asura and Decho Dam Din Statue known was famous Khmer hero in the past time.
We drive on Kizuna bridge pass to the Rubber farming and take time to find out about rubber Factory for a moment before reach to Kratie located at northeast of Cambodia and its town is very charming , decorated colonial homes of French and Khmer style scattered. The river scene of Kratie has a beautiful river boulevard with dozens of snack and drink stands. we continue to Kampi is famous the rare freshwater Irrawaddy dolphins make their home in the Mekong River. a small wooden boat will float you closely dolphins view before sunset down.
Overnight at hotel.
Day 6 : Kratie – MTCC - Mondulkiri (B)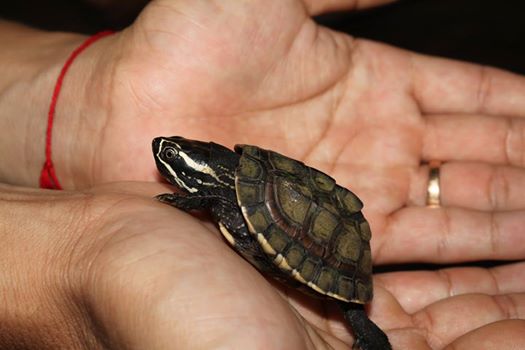 This morning, we are going to see MTCC near Kratie, located at 100 pillar pagoda We will go to visit. Mekong Turtle Conservation Center. Softshell turtle hatchlings are gathered from natural nests along the nearby Mekong River which are protected by the associated nest protection program and headstarted at the MTCC after which they are released back into the river. This process of raising turtles in captivity is expected to lead to an increase of these critically endangered species in the wild which is the goal of this conservation project. The centre will pays local villagers to protect nests of the highly threatened Cantor giant soft shell turtle. When the turtles hatch, they are taken to the Mekong Turtle Conservation Project. Mondulkiri is the eastern of Cambodia, it is popular province abundant of forest tree and thickly forested mountain and valuable mines on ground with beautiful and cool waterfall.
Overnight at hotel

Day 7 : Mondulkiri – Elephant riding – Ethnic Village (B)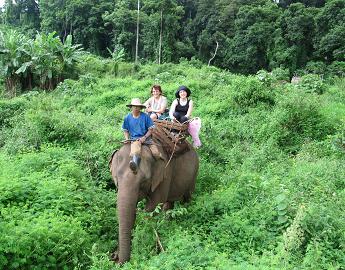 After breakfast, our guide escort you to explore our elephant. you will be riding on the back of elephant with experienced mahout to visit the thickness of ecological beautiful forest. Then you reach to meet Phnong or ethnic population to explain get into deeply about their culture and traditional houses. you are possible to see the pine tree was planted in 1970 during the trip. after our exploration we take a short time to check one of cool and wonderful water fall to relax before transfer to hotel. Overnight at hotel.

Day 8 : Mondulkiri – Phnom Penh (B)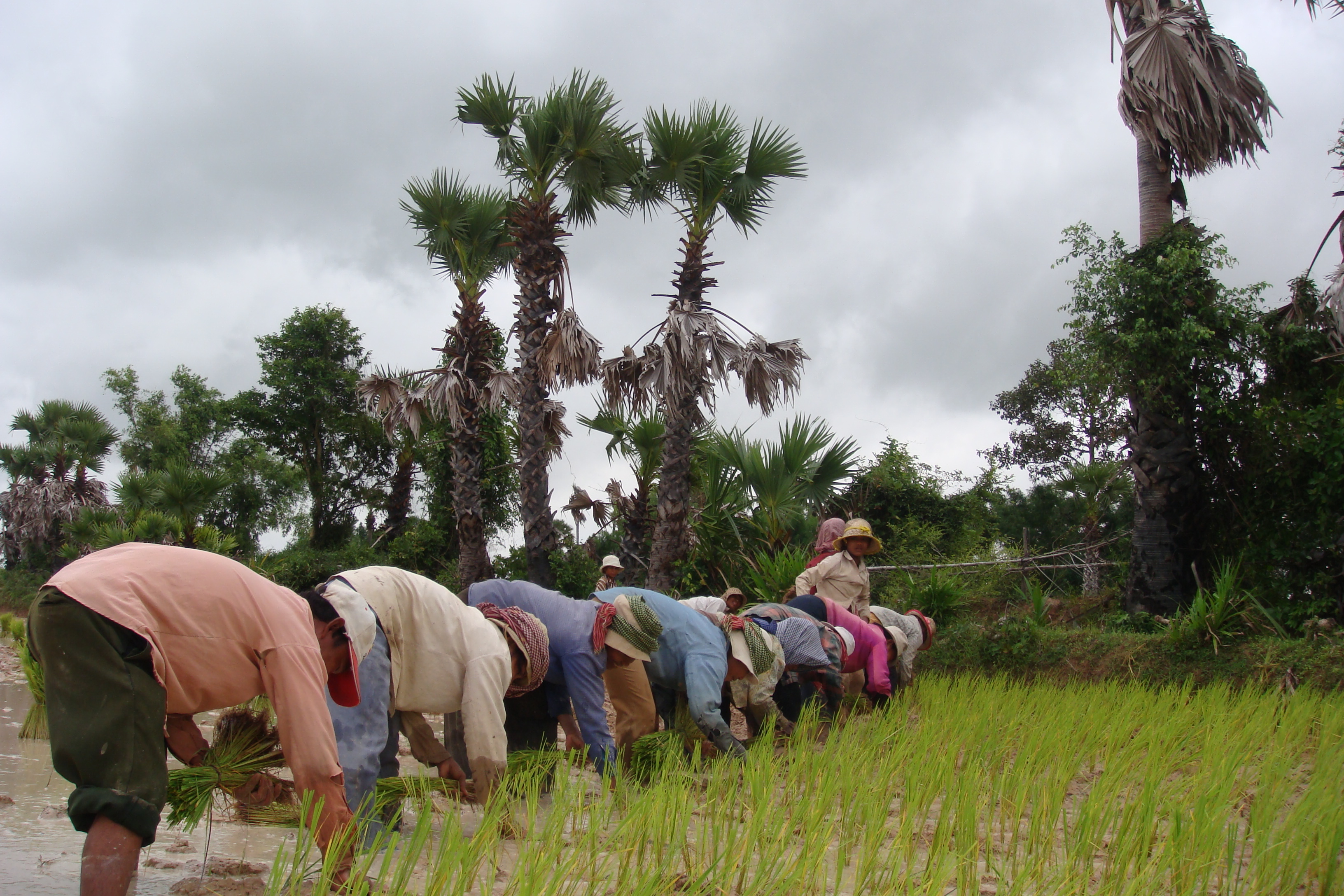 Our trip will drive back to Phnom Penh for 8 hours via Skun village is well known Spider Ville in Kampong Cham Province. we pause a moment for break you are able to try tasting crunchy spider from vendors. Phnom Penh is splendor and charming city of heart in Cambodia as known as the "Pearl of Asia," it was considered one of the loveliest French-built cities in Indochina. Then transfer to hotel for check in. Overnight at hotel.

Day 9 : Phnom Penh – Exploration (B)

We start visiting Royal Palace is beautiful palace was built in 1866 after moving from Oudong. the palace is in size of 402 m x 435m that covered many buildings of surrounding compound. its building is still conserved as in colorful and beautiful garden . the most interesting is Royal throne that is the welcome and meeting place for high rank official, diplomats , king coronation or king wedding. The Napoleon pavilion is nearby in poor condition is unique surviving structure which gift from French King Napoleon III, then Silver Pagoda is the beautiful structure of its architecture in Khmer traditional style. the 5000 silver tiles was grounded on the floor with motif carving and there is amazing golden buddha statue standing in the middle hall and ornamented small and big diamond of 25 millimeter on crown. the other objects will be displayed in the cabinets for the public and tourists visit.Toul Sleng genocidal museum is the former high school in Phnom Penh of Cambodia. in 1975 ,during the Khmer rough regime, the school was used as a prison an d torture center known as S 21.Thousand of Cambodians and a number of foreigner were imprisoned and interrogate before executed. the photos of Khmer rough and illing tools is still displayed in the cabinet of room. then we head down Killing Field also is known Choeug Ek in Khmer. it is 15 kilometers from Phnom Penh city. Here is the executed center after the prisoners was transferred by truck to kill after interrogation and answering was terminated. there are many mass graves surrounding of its compound and a number of sites in Cambodia where large numbers of people were killed and buried by the communist Khmer rough regime, during its rule of the country from 1975 to 1979. we explore to Russian Market the foreigner's market during the 1980's when most of the foreigners in Cambodia were Russians, hence the name 'Russian Market. nowadays this market had changed their name to Phsar Toul Tom Poug in Khmer. there are many of stalls to sell as silk scarfs, statues, CDs, T-shirt, fruits ,vegetables and cooked food in the market. Overnight at hotel.


Day 10 : Phnom Penh – Departure(B)
It is time to transfer back to airport for departure flight to your next destination or home.


End of Tours!

INCLUSION:
09 night ***hotel accommodation with daily breakfast

Meal: as mentioned in program (B: Breakfast, L: Lunch and D: Dinner)

Airport transfers & Transport by air con. vehicles as per program

Boat trip as mentioned

Sightseeing and entrance fees as specified sites.

Local English speaking guide as in program

Cold water and towel during trip
EXCLUDSION:
Visa fee, Airport Tax

International air ticket in-out of Cambodia

Other services not mentioned as inclusion

Other meal, drink, personal expenses, tip
*Child Policies "must be under 12 years old upon the traveling date:
Child in half twin , sharing room with 01 adult 100% of adult fare
Child in extra bed, sharing room with 02 adults 75% of adult fare
Child without bed, sharing room with 02 adults 50% of adult fare
Complementary for kid under 0-4 years old shared bed with parents, except air ticket.

*Cancellation Policies:
Between 17-20 days before arrival: 10% charge

Between 9-12 days before arrival: 30% charge

Between 7-10 days before arrival: 50% charge


Within 4 days before arrival: 100% charge